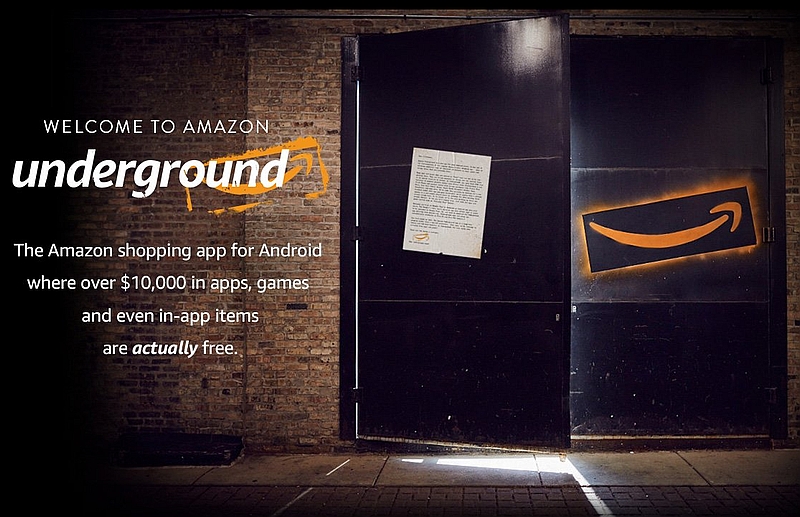 Amazon on Wednesday announced its new Android app called Amazon Underground, which is offering 'Actually Free' apps, games, and in-app purchases worth $10,000 (roughly Rs. 6.6 lakhs). The company explains that while many of the free apps in other stores come with hidden in-app purchases, which users discover only after downloading, the 'Actually Free' apps in Amazon Underground are completely free without any in-app purchases.
The Internet retail giant is making this idea possible by implementing a 'new business model' where Amazon is paying number of app and game developers on a per-minute basis (for every minute the app is used) in exchange for them waiving their regular in-app fees. The Amazon Underground app, like the Amazon Appstore for Android, is not available to download from Google Play. The search giant does not list apps which offer users the access to other apps or games. Therefore, users would need to download and install (sideload) the app from the Amazon website. Inside the app, users would have to hunt for the 'Actually Free' banner on the apps to use it without facing any in-app purchases.
Furthermore, Gdgt Spot has reported that the 'App of The Day' promotional offer by the company is no more and is being said to be replaced by Amazon Underground. However, the firm has officially not mentioned anything on the issue. "The Amazon Underground app is a long-term program rather than a one-off promotion. Over time, we'll continue to invent and add more benefits to Underground. For now, enjoy some actually free apps and games!," said the firm on its website. The app for now is limited to the US, UK, France, and Germany and might reach other regions as well in future. The app can be downloaded from the amazon.com/underground website.
Dear Customers.

Amazon Underground is a new app for your Android phone. It has all of the functionality of our regular Amazon mobile shopping app… plus an exciting addition: over ten thousand dollars in apps, games and in-app items that are actually free.

Many apps and games that are marked as "free" turn out not to be completely free. They use in-app payments to charge you for special items or to unlock features or levels. In Underground. you will find 100% free versions of popular premium titles like OfficeSuite Professional 8, Goat Simulator, and PhotoSuite 4 and popular titles with in-app purchases like Frozen Free Fall, Star Wars Rebels: Recon Missions, Angry Birds Slingshot Stella, Looney Tunes Dash! and many more. We've made this possible by working out a new business model with app and game developers: we're paying them a certain amount on a per-minute played basis in exchange for them waiving their normal in-app fees. To be clear, we're the ones picking up those per-minute charges so for you it's simply free. Just look for apps and games marked with an "Actually Free" banner.

Normally you'd go to Google Play to download an Android app onto your phone. But Google's rules don't allow an app that offers apps or games to be included in Google Play. So, you need to download the Underground app directly from Amazon.com. (Underground apps and games are automatically available on Fire HD and Fire HDX tablets.)

One last point on this. The Amazon Underground app is a long-term program rather than a one-off promotion. Over time, we'll continue to invent and add more benefits to Underground. For now, enjoy some actually free apps and games!

Thank you for being a customer.

(The Underground team)