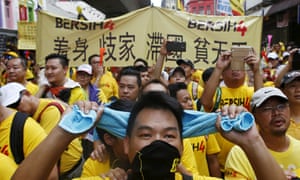 Thousands of Malaysians took to the streets of Kuala Lumpur calling for the resignation of the prime minister, Najib Razak, who is battling the fallout from a financial scandal.
The government condemned the weekend rallies as illegal and blocked the website of the organisers, a coalition of non-governmental organisations. It was the fourth demonstration by the Bersih ("Clean") movement, which is protesting against what it calls "one of the greatest multi-billion dollar corruption scandals in Malaysia's history and the government's most oppressive crackdowns on free speech". Najib is facing calls to resign after reports that he pocketed $700m (£456m) from the debt-laden state fund 1 Malaysia Development Bhd.
1MDB was launched in 2009 by Najib, who still chairs its advisory board. Critics say he has been opaque in explaining its dealings. Cabinet ministers later said the money was political "donations" from people in the Middle East but the explanation further enraged Malaysians.he prime minister says he is innocent of allegations that he has taken money.
He has sacked four ministers, his attorney general and deputy prime minister in an attempt to disarm his critics. A crackdown on dissent has also seen the blocking of two newspapers and a British-based whistleblowing website that is run by Gordon Brown's sister-in-law.
Gooi Hsiao Leung, an MP from Alorsetar in north west Malaysia for the party of imprisoned opposition leader Anwar Ibrahim, said he had attended three Bersih protests. "Many Malaysians are outraged with what is happening in Malaysia– the rampant corruption and abuse of power," he told the Observer in central Kuala Lumpur, surrounded by thousands of protesters in yellow shirts at one of the five meeting points in the capital.
"We are also very unhappy with the severe state of gerrymandering," Gooi said, referring to the ruling party. "We are here to say 'enough is enough'. We want to save Malaysia."A festival atmosphere prevailed as protests began. People in yellow clothes listened to prayers by organisers and a speech by the wife of Ibrahim, Wan Azizah Wan Ismail, who stood on a pick-up truck with four megaphones fitted to the top. Vendors were selling yellow Bersih scarves and the Guy Fawkes masks made popular by the Anonymous movement. Many people had helium balloons of Minions, characters from the feature film of the same name, as they are coloured yellow.