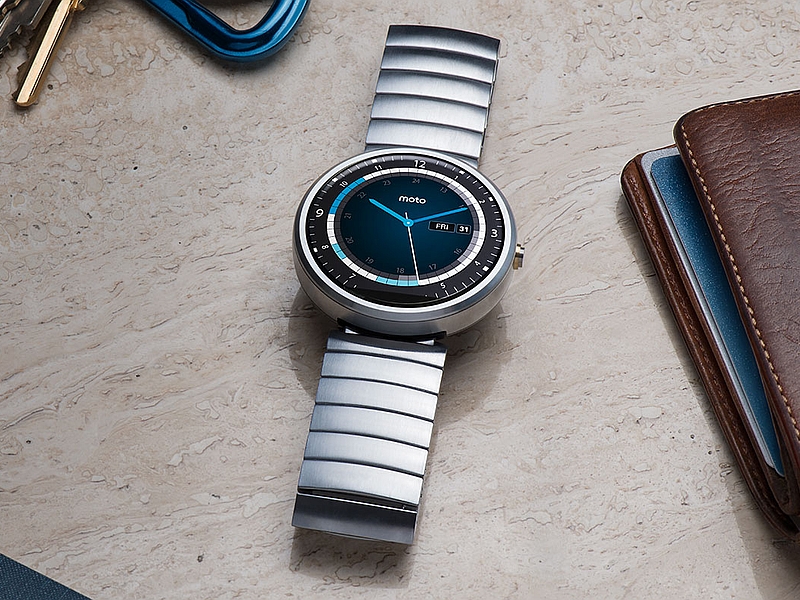 While we saw Motorola tweeting the launch date for the Moto X Pure Edition by mistake on Twitter, it has now posted a short video showcasing the new Moto 360 smartwatch. A listing has also revealed that the Lenovo-owned company might have not one but two different variants of the smartwatch, dubbed Moto 360S and Moto 360L, up its sleeve.
Motorola on Friday posted a short video for a few seconds on its Twitter page (now removed), which stated, "#Moto360 helps you find the important things in life. Like a wardrobe for @TinyIndianaJones." Although the video has obviously been removed from the social media website, Android Police has managed to grab the video showing the alleged new version of the smartwatch.
As seen in the video, the new Moto 360 is shown taking "Ok Google" voice commands. While the device retains its 'flat tire' circular design, the crown button has moved up to a 2 o'clock position and the metal bezel looks much more elegant. Also, external lugs are seen on the watch. The existing model has the band attached under the main circular body. While Motorola has not yet made the wearable official, the short video does hint that the company is definitely working on a new version behind the scenes.
Meanwhile, a listing on the Brazil's Anatel, a federal telecom regulation website, has tipped that Motorola might have more than one next-generation Moto 360 watch to launch. First spotted by 9to5Google, the Moto 360S is seen with 270mAh battery, while the Moto 360L is seen sporting 375mAh battery. As compared, the existing Moto 360 model features a 320mAh battery. This however indicates that the 'S' and 'L' might stand for small and large based on the battery capacities of the listed models.
Last month, the Moto 360 successor was reportedly spotted at the US FCC (Federal Communications Commission), suggesting that the smartwatch might still be going through wireless testing. According to the FCC listing, the smartwatch from Motorola Mobility comes with FCC ID IHDT6UA1 and is a wrist-worn device with Bluetooth and Wi-Fi connectivity.