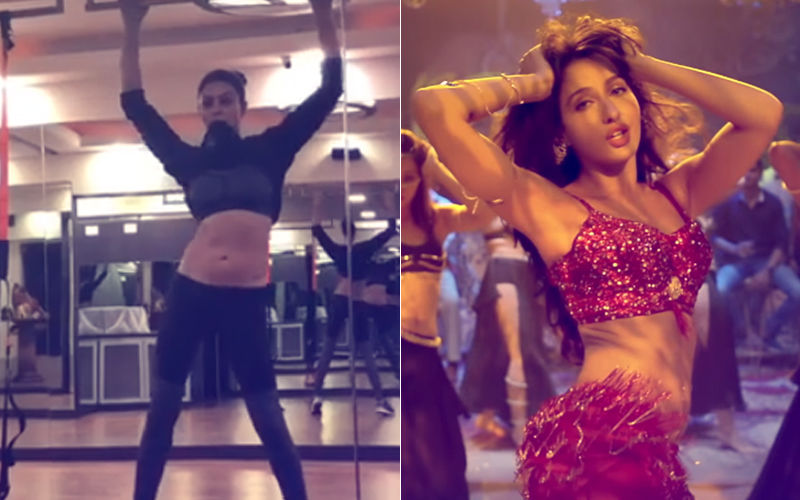 When Nora Fatehi danced to Sushmita Sen's iconic song Dilbar Dilbar from Sirf Tum (1999) in Satyameva Jayate (2018), little did she know that the song will go on to become such a massive success. With the enormous success came a fair share of brickbats also. While purist of music have always loved the original version of the song, critics do say that the new version is also pretty good.
Nora's dance was appreciated massively in this song. Her dance steps made the nation sway to the beats of the song. However, when Sushmita decided to dance on the new version of the song, she pretty much schooled Nora on how to ace the steps to the beats.
Sushmita captioned the video as: "#dilbar was always a #feeling #groovy #coreworkout #lastnight Don't miss my friend Sreejaya's absolute focus in shooting this video!!! I missed you @farahkhankunder #lovereloaded #dilbardilbar "Tell me you guys saw the wink" #naughtyme love you guys!!! #keepgrooving 🏻 (sic)."
The video of Sush dancing went viral to the extent that Nora too couldn't stop from commenting about it. She shared the video on her Instagram page with the caption, "Ugh i just love her legend !!! @sushmitasen47 #originaldilbarforlife (sic)."
We all remember how Sushmita had said recently at the Lakme Fashion Week that she loved the original song more. She had said, "Nora was absolutely fantastic in it and my favourite part of this song are the first two lines, which they added (in the revamped version) and is very well done. The remix is also very well done. Nora has absolutely killed it but I still like the original version more." After hearing to that, we pretty much knew that a video of Sush dancing to the new version was in the way. And one look at it and we know, she has nailed it.